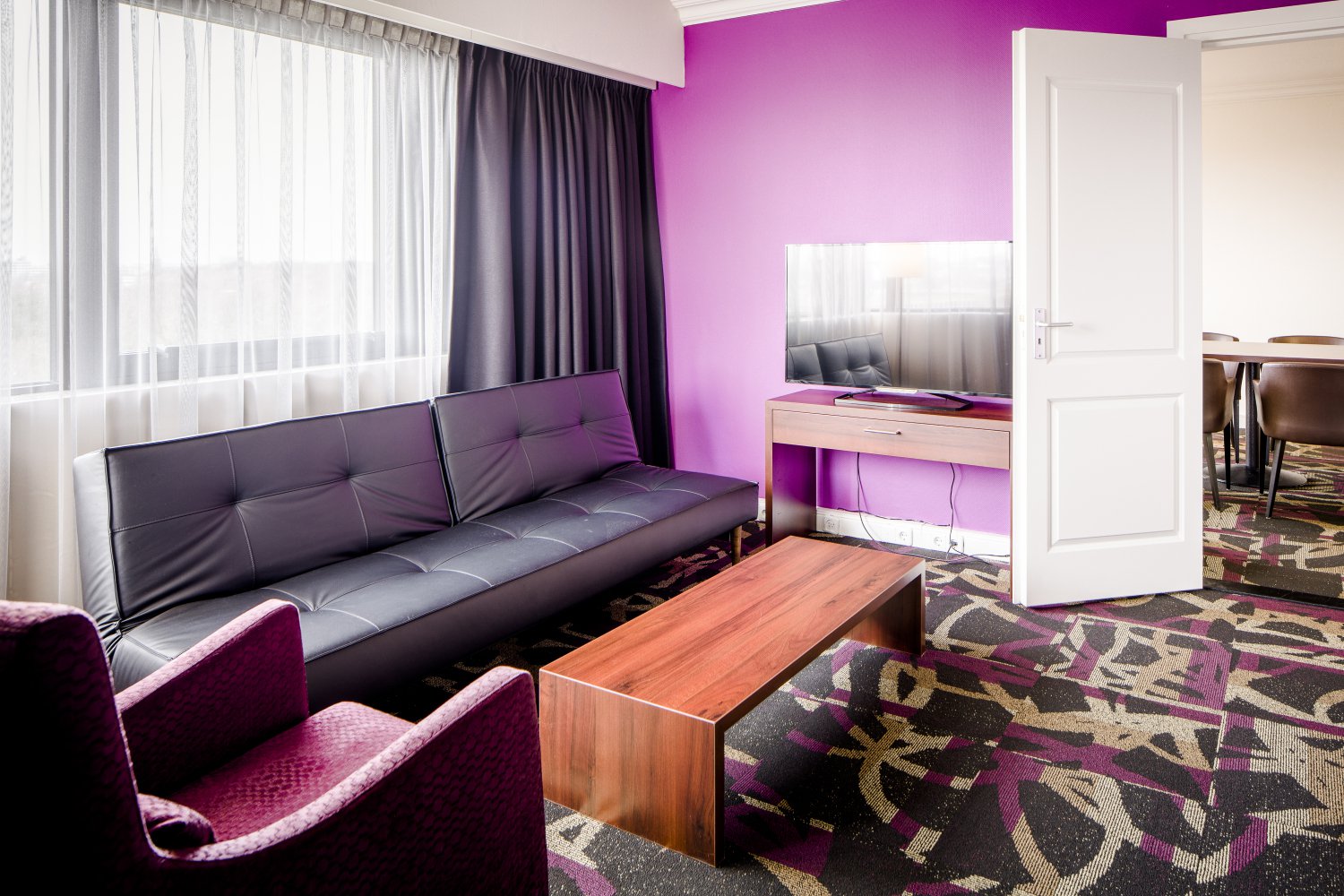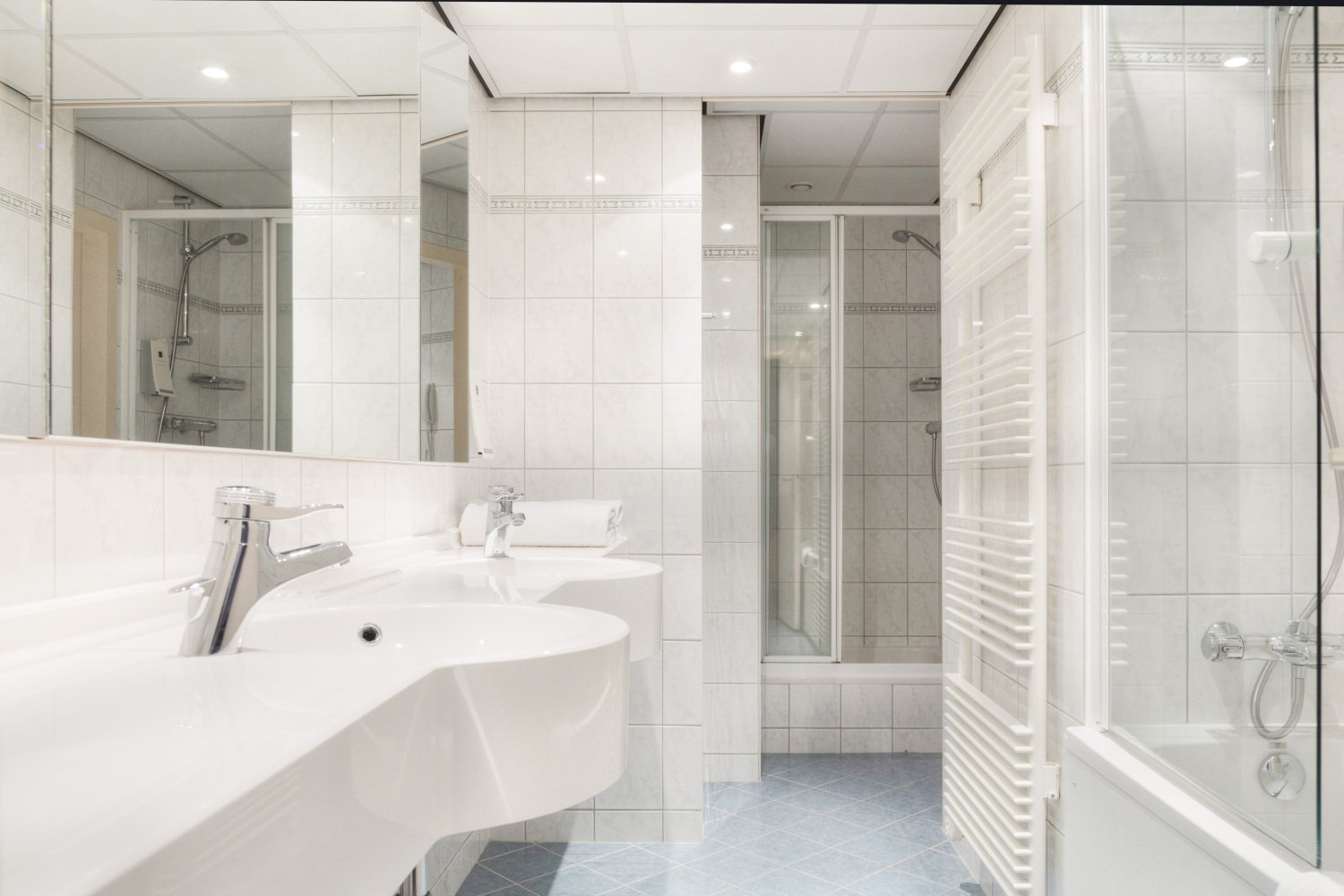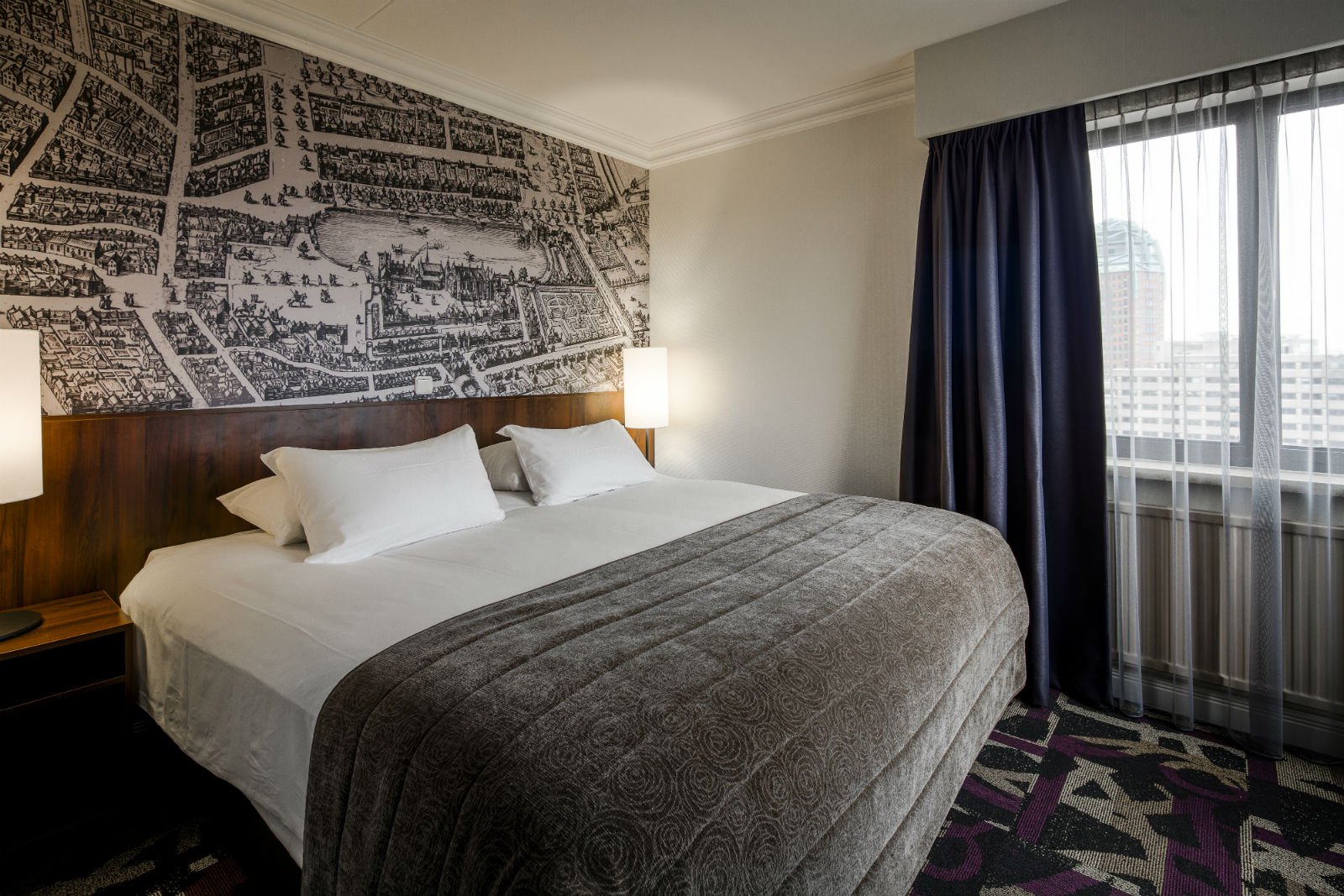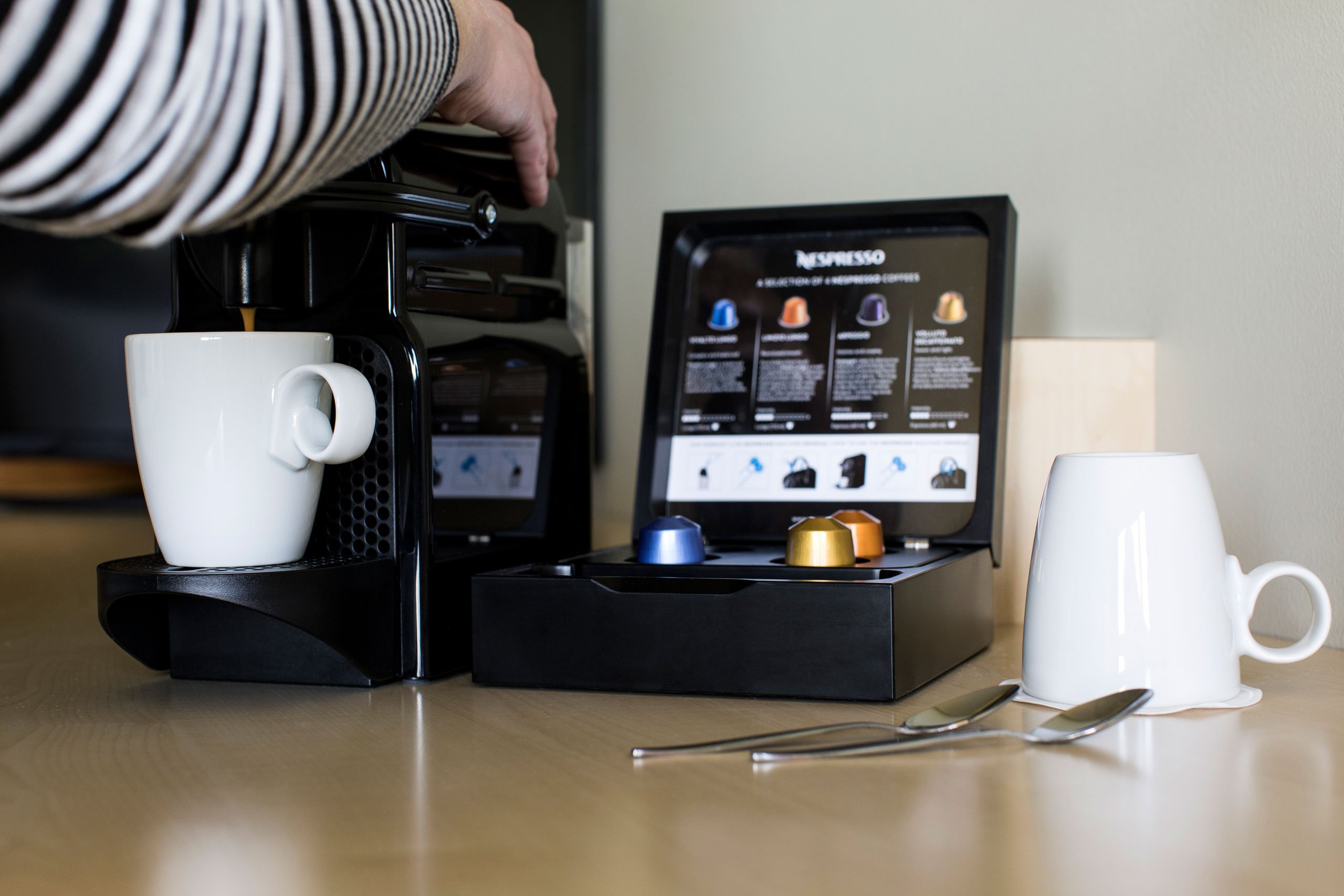 Rooms
Executive Suite - Family Room
Stunning view over The Hague

Spacious bathroom with whirlpool
A Specious Suite with a magnificent view on The Hague. Feel the Luxury in the Bathroom with the Whirlpool, enjoy your Nespresso or drink from the complimentary filled minibar. Or enjoy a private dinner in your own room after a busy day. This Family suite is ideal for Families up to 5 persons.
1 Double bed
1 Sofa bed
1 Babycot on request
max. 5 persons
± 60 m²
About this room
Bathtub
Shower
Desk
Flat screen TV
Hairdryer
Luggage rack
Safe
Coffee machine
Mini-bar
Sofa bed
Iron & ironing board
Phone
Kettle
Wake up service
Wi-Fi
Sitting area
Good to know
Check-in

from 15:00

Check-out

to 12:00

Cancellation / Prepayment

Cancellation and prepayment conditions vary according to room type

Children and Extra Beds

Children of all ages are welcome.

A supplementary charge of €2,50 will be applied for children up to and including 12 years of age for breakfast.

For all older children or adults there is a supplementary charge of €30 per night for the use of extra beds.

Availability of an extra bed or baby cot is always on request and must be confirmed with the hotel. 

Supplementary charges are not automatically included in the total amount and must be paid separately during the stay. 

The maximum number of people in a room varies per room type.

Groups

For a booking of more than 9 rooms, special conditions and extra supplementary charges may apply. 

Payment options
Hotel reviews
Caring staff, wonderful service
The staff were thoughtful and conscientious. Noting that I was vegetarian and going to stay for 4 nights, the restaurant staff spoke with the chef, who prepared special meals for me which were not on the menu. This gave me variety and each night was a treat! The front desk staff were also always willing to help. The room was clean and comfortable and the location is excellent. Well done to all the staff and thank you!
Unbeatable location with service notes
amazing location that's hard to beat. However, my check-in and check-out experiences were less than ideal, which was disappointing. On a positive note, the hotel's breakfast was a delightful experience. The convenience of being just a 3-minute walk from the main station and its proximity to a beautiful park were definite advantages. My only suggestion would be for the front desk staff to be more helpful to enhance the overall guest experience.
very convenient
it's in front of Den Haag central station and next to TNO head quotor office building. It's only 10 min walk to the popular restaurant area. I had ramen there. The restaurant name is TAKUMI. It's Japanese Ramen Shop. It's delicious.
Excellent service
This hotel is very special and overall service is for a 5 star hotel. The breakfast is amazing, friendly staff and the rooms are very clean and everyday they clean the room. Rarely you see such a good hotel.
Uncomfortable encounter with receptionist
The receptionist gave me a hard time about checking out after I kept trying to explain to her that my stay was extended to 4 nights when I checked in (all already paid for). We had a back and forth for over 15 minutes with her not listening and her telling me to check out over and over again in spite of my explanations. This was frustrating and extremely embarrassing as there were several other guests around. Finally she goes to ask her colleague about it and is shown my full booking. No apologies at all from her end… just her asking me for an advance payment for breakfast. It's been a very uncomfortable and embarrassing encounter. It's hard to enjoy the rest of my stay after this tense moment. Apart from this all other staff are great. The evening receptionist and restaurant staff were extremely helpful, kind and delightful.